L.D. Chukman
Custom Career Cartoons
I can create a unique, custom-made color drawing for a friend or colleague. Tell me about his or her career or important events in his or her life and I will create a specially designed cartoon for him or her - or for you! I call them Custom Career Cartoons.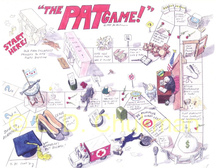 A departure gift for a manager in the Corporation Counselís office who left for a career in Academia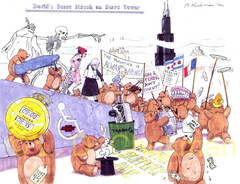 A departure gift for an Assistant Corporation Counsel who was leaving to join a big-name law firm in Sears Tower. The teddy bears represent the numerous jury trials that he won.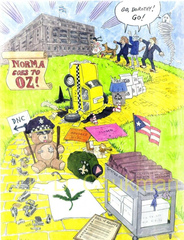 A gift, celebrating her promotion, for an Assistant Corporation Counsel kicked upstairs to City Hall
ALL IMAGES ON THIS SITE ARE COPYRIGHT © 1983 -2019 BY L.D. CHUKMAN, ALL RIGHTS RESERVED